Emma Doll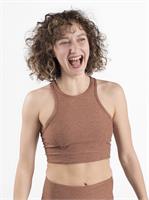 Q: WHAT MADE YOU FALL IN LOVE WITH BARRE?
A: When I am deep into a barre movement, my mind completely clears of all anxiety and worry, my body and spirit strengthen.
Q: WHAT'S ONE THING YOU WISH YOU COULD TELL YOUR YOUNGER SELF?
A: Your body is beautiful, only you need to know this and truly believe it. <3
Q: WHAT'S YOUR DAY JOB?
A: I sew and design clothes for my own Slow Fashion Label.
"Another woman's beauty is not the absence of your own."
Emma Doll instructs the following:
The original, like a classic tote that complements every look, this one hour workout will tone and challenge all levels of fitness. This is a class you can't go wrong with. The BBF tones and blasts common problem areas through a series of strategic exercises that focus on strength and flexibility while incorporating the ballet barre. The routine keeps fitness fresh with innovative moves complementary to all levels of fitness.

Classes at Ramsay in Studio B are smaller and may be a good fit for first timers.




This class is designed to target all areas of the body with an emphasis on the core. Barre paired with an intense core segment and plenty of stretching, what could be better. Be prepared to strengthen, sweat, and stretch.