Jennifer Ogilvie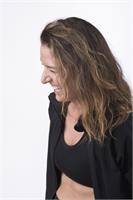 Q: WHAT DOES BEING A PART OF THE BBS TRIBE MEAN TO YOU?
A: Being motivated by likeminded, energetic and influential individuals!
Q: WHAT'S YOUR WHY?
A: Inspiration is all around us waiting to be discovered, all you have to do is get out of bed to start your journey everyday!
Q: DESCRIBE YOUR PERSONALITY?
A: Adventurous. Creative. Colourful.
"You can either be comfortable and stagnate or stretch yourself-become uncomfortable-and grow."
Jennifer Ogilvie instructs the following:
Pressed for time? Aren't we all? Join us for a 50-minute variation of Barre Body Fit for Barre Body Fitters on the go! This class is sure to leave you feeling refreshed and ready to take on the rest of your day.