Chantelle Majkovic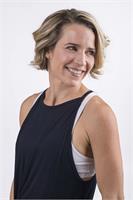 Q: WHAT MADE YOU FALL IN LOVE WITH BARRE?
A: Everything! The energy, movement, music, and the sweat. But MOST of all, the people.

Q: WHAT OTHER TYPES OF FITNESS / SPORTS DO YOU ENJOY?
A: I love running with my dog and dancing in the kitchen with my 4 kids.


Q: WHAT DOES BEING A PART OF THE BBS TRIBE MEAN TO YOU?

A: I always say at the end of my classes, "Thank you for filling my bucket". The tribe, the community and the space provide my heart with so much goodness that I am literally overflowing after each class. I couldn't be more grateful to be a part of the BBS tribe.

"Stop worrying about what other people think. Just be you."
Follow Chantelle on Instagram: @cmajk
Chantelle Majkovic instructs the following:
This class is designed to target all areas of the body with an emphasis on the core. Barre paired with an intense core segment and plenty of stretching, what could be better. Be prepared to strengthen, sweat, and stretch.




Pressed for time? Aren't we all? Join us for a 50-minute variation of Barre Body Fit for Barre Body Fitters on the go! This class is sure to leave you feeling refreshed and ready to take on the rest of your day.




The original. If you're new to the studio, start with this one-hour class. It combines choreographed strength and flexibility training while incorporating the ballet barre.




The original, like a classic tote that complements every look, this one hour workout will tone and challenge all levels of fitness. This is a class you can't go wrong with. The BBF tones and blasts common problem areas through a series of strategic exercises that focus on strength and flexibility while incorporating the ballet barre. The routine keeps fitness fresh with innovative moves complementary to all levels of fitness. > Classes in studio b are smaller and may be a good fit for first timers.