Brittany Lange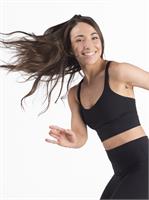 A: I am constantly trying to challenge myself in new ways - always learning, always growing. Seeking that challenge gets me out of bed in the morning and is what I bring to my classes. I am always trying to push myself to that next level - you with me? ;)
Q: WHAT DOES BEING A PART OF THE BBS TRIBE MEAN TO YOU?
A: Everything. Being a part of this community is so special - no matter what kind of day I am having I always leave the studio feeling better than when I walked through the doors. Sometimes we are the ones motivating and other times we are there to receive that push, that's the beauty of it. It's simple - we RISE together! <3
Q: YOUR PERSONALITY IN 3 WORDS OR LESS?
A: Perfectionist. Ambitious. Confident.
"Don't be afraid to push past the limits of your comfort zone - this is how you learn and grow."
Brittany Lange instructs the following:
The original, like a classic tote that complements every look, this one hour workout will tone and challenge all levels of fitness. This is a class you can't go wrong with. The BBF tones and blasts common problem areas through a series of strategic exercises that focus on strength and flexibility while incorporating the ballet barre. The routine keeps fitness fresh with innovative moves complementary to all levels of fitness. > Classes in studio b are smaller and may be a good fit for first timers.




This 75 minute class gives you a little extra of all your favourite things. Come for the barre body fit sequence you know and love, with extra time to spend on glutes, core, and stretch.