Vanessa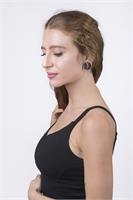 Q: WHAT OTHER TYPES OF FITNESS/SPORTS DO YOU ENJOY?
A: Ashtanga yoga, swimming, spin, basketball, hiking.
Q: WHAT DOES BEING A PART OF THE BBS TRIBE MEAN TO YOU?
A: The BBS tribe has always been welcoming, positive and authentic, and that in turn encourages me to bring the same uplifting vibrations to every aspect of my life.
Q: WHAT'S YOUR WHY?
A: My WHY is redefining what I can and can't do. Gritting my teeth and surprising myself with that one extra set completed at the end of a hard series. Realizing that I am much more capable than I think I am. Pushing my own limits. Seeing other people experience the same effect through barre, then having the trickle effect throughout their own lives; nothing better.
"Keep going."
Vanessa instructs the following: