Lanette Nieboer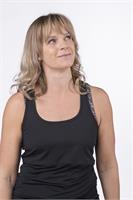 Q: WHAT MADE YOU FALL IN LOVE WITH BARRE?

A: It was my outlet to release the everyday stresses of my life, I truly love the low impact, high intensity workout.
Q: DESCRIBE YOUR STYLE OF BARRE CLASS?
A: Fun, energetic, intense, motivating & challenging.

Q: WHAT OTHER TYPES OF SPORTS/FITNESS DO YOU ENJOY? A: My first love ~ Volleyball, spinning, chasing my kids.
"Be patient. Things will happen."
Lanette Nieboer instructs the following: