Lena Le Huray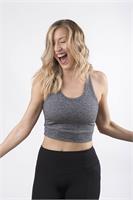 Q: WHAT OTHER TYPES OF FITNESS / SPORTS DO YOU ENJOY?
A: Pilates and dance cardio (I still secretly do Jane Fonda workouts)!
Q: WHAT'S YOUR WHY?
A: To see women set free from any unhealthy relationships they may have towards food and their body, and help them walk in full health - physically, emotionally and spiritually.
Q: WHAT DOES BEING A PART OF THE BBS TRIBE MEAN TO YOU?
A: I have always had the desire to help women love the skin they're in, and care for their body through movement. Being a part of the BBS Tribe allows me to show people that fitness can, and should be, fun. Being a part of the BBS Tribe is like being a part of a family for me, where I get to go hang out with a room full of my best friends every time I teach or take class.
"Don't waste your time comparing yourself to others; it only sets you back."
Lena Le Huray instructs the following:
The original, like a classic tote that complements every look, this one hour workout will tone and challenge all levels of fitness. This is a class you can't go wrong with. The BBF tones and blasts common problem areas through a series of strategic exercises that focus on strength and flexibility while incorporating the ballet barre. The routine keeps fitness fresh with innovative moves complementary to all levels of fitness.

Classes at Ramsay in Studio B are smaller and may be a good fit for first timers.




You asked and we answered. Introducing our newest schedule addition: BBS Bangin' Backside! Come to this class for a higher, tighter, rounder butt. We'll run you through the BBS format you know and love with an extra emphasis on sculpting your seat, toning your hamstrings, and strengthening your back. All levels welcome.