Lena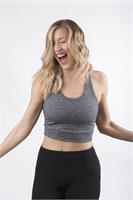 Why do you love Barre? I love Barre for so many different reasons. I've been a personal trainer and involved in fitness for the past 8 years and this has been one of the only methods of movement where I've really seen the body changes I've desired. Not only has it catered to me on a physical level, but emotionally and spiritually as well. Barre embodies femininity and strength for me, it helps with posture, injury rehabilitation and balance. The community that you're a part of when you go, and the connections you make are truly inspiring and uplifting.
What is you favourite Barre Body Move? Anything glutes. If it works the booty, I'm all in!
Who inspires you to be the best version of yourself? My husband.
What is your favourite quote? "Life without passion is unforgivable". -P.Diddy
Lena instructs the following:
You asked and we answered. Introducing our newest schedule addition: BBS Bangin' Backside! Come to this class for a higher, tighter, rounder butt. We'll run you through the BBS format you know and love with an extra emphasis on sculpting your seat, toning your hamstrings, and strengthening your back. All levels welcome.




The original, like a classic tote that complements every look, this one hour workout will tone and challenge all levels of fitness. This is a class you can't go wrong with. The BBF tones and blasts common problem areas through a series of strategic exercises that focus on strength and flexibility while incorporating the ballet barre. The routine keeps fitness fresh with innovative moves complementary to all levels of fitness.

Classes at Ramsay in Studio B are smaller and may be a good fit for first timers.