Danna Cook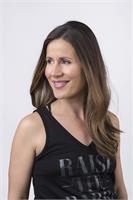 Q: WHAT'S YOUR WHY?
A: Making others feel good about themselves.
Q: WHAT'S ONE THING YOU WOULD TELL YOUR YOUNGER SELF? GO!
A: Wear more sunscreen.

"I fell in love with barre because of the way I feel in the room. I love working through the movements set to awesome music."
Danna Cook instructs the following:
Pressed for time? Aren't we all? Join us for a 50-minute variation of Barre Body Fit for Barre Body Fitters on the go! This class is sure to leave you feeling refreshed and ready to take on the rest of your day.




You asked and we answered. Introducing our newest schedule addition: BBS Bangin' Backside! Come to this class for a higher, tighter, rounder butt. We'll run you through the BBS format you know and love with an extra emphasis on sculpting your seat, toning your hamstrings, and strengthening your back. All levels welcome.