Amber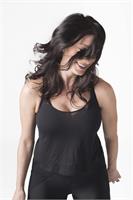 Why do you love Barre? It changes your body shape and increases strength without straining or over working your body and muscles. It is by far the most effective form of exercise I have found in years of working out.
What do you want to be when you grow up? I work in adolescent mental health as a therapist. I feel so lucky that I truly love what I do. The challenge and the complexity of my career keeps me loving it! I can't really picture doing anything else!
What little things make you smile? Sunshine and chocolate.
Do you carry anything odd with you in your purse or gym bag? Just an inappropriate amount of grip socks.
Amber instructs the following:
The original, like a classic tote that complements every look, this one hour workout will tone and challenge all levels of fitness. This is a class you can't go wrong with. The BBF tones and blasts common problem areas through a series of strategic exercises that focus on strength and flexibility while incorporating the ballet barre. The routine keeps fitness fresh with innovative moves complementary to all levels of fitness. > Classes in studio b are smaller and may be a good fit for first timers.




Barre.Tone.Sweat is designed to challenge you with added cardio, higher intensity strength sequences, and combination choreography. We recommend attending 5 Barre Body Fit classes prior to attending a B.T.S class.




This class is designed to target all areas of the body with an emphasis on the core. Barre paired with an intense core segment and plenty of stretching, what could be better. Be prepared to strengthen, sweat, and stretch.




Pressed for time? Aren't we all? Join us for a 50-minute variation of Barre Body Fit for Barre Body Fitters on the go! This class is sure to leave you feeling refreshed and ready to take on the rest of your day.




Private class with Instructor of choice. Rates vary and are dependant on group size. Grip socks are required for all participants to wear during class; bring your own, rent a pair in-studio for $1.00 or purchase a pair from our boutique.