Nicole W.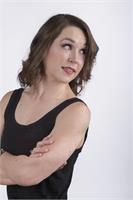 What is you favourite Barre Body move? Sexy hips!
After Barre you can be found: teaching ballet or taking some kind of class.
What is your guilty pleasure? Chocolate, coffee, shopping and Netflix.
What little things make you smile? Good music, "ah-ha" moments, a good latte and sexy hips!
Nicole W. instructs the following:
Pressed for time? Aren't we all? Join us for a 50-minute variation of Barre Body Fit for Barre Body Fitters on the go! This class is sure to leave you feeling refreshed and ready to take on the rest of your day.




The original, like a classic tote that complements every look, this one hour workout will tone and challenge all levels of fitness. This is a class you can't go wrong with. The BBF tones and blasts common problem areas through a series of strategic exercises that focus on strength and flexibility while incorporating the ballet barre. The routine keeps fitness fresh with innovative moves complementary to all levels of fitness. > Classes in studio b are smaller and may be a good fit for first timers.




BBS Back to Basics workshop will focus on BBS foundations, form, and work through common mistakes. During this 60-minute workshop, we will break down the bio-mechanics of the body and we'll learn how it applies to postures and movement patterns in class. Take your barre fitness to the next level through our Back to Basics class where the focus will be on barre foundations, techniques and form which will ensure you are getting your maximum barre-burn.

This workshop is open to all participants and will include 2-instructors for each class to guarantee individual attention, hands-on corrections to allow you to apply our basics in all of your future classes.

$28 Workshop Drop-in ($22 member)