Emma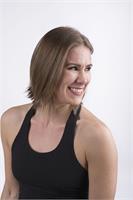 Why do you love Barre? It is an incredible workout and so fun! I honestly never get bored of it. The fusion between Pilates, dance, strength training and awesome loud music!
What is a secret talent of yours? I carve a pretty mean pumpkin!
What is your guilty pleasure? Peanut Butter.
What little things make you smile? Cat videos. I can't get enough!
Emma instructs the following:
Barre.Tone.Sweat is designed to challenge you with added cardio, higher intensity strength sequences, and combination choreography. We recommend attending 5 Barre Body Fit classes prior to attending a B.T.S class.




You asked and we answered. Introducing our newest schedule addition: BBS Bangin' Backside! Come to this class for a higher, tighter, rounder butt. We'll run you through the BBS format you know and love with an extra emphasis on sculpting you seat, toning your hamstrings, and strengthening your back. All levels welcome.




This class is designed to target all areas of the body with an emphasis on the core. Barre paired with an intense core segment and plenty of stretching, what could be better. Be prepared to strengthen, sweat, and stretch.




The original, like a classic tote that complements every look, this one hour workout will tone and challenge all levels of fitness. This is a class you can't go wrong with. The BBF tones and blasts common problem areas through a series of strategic exercises that focus on strength and flexibility while incorporating the ballet barre. The routine keeps fitness fresh with innovative moves complementary to all levels of fitness.

Classes at Ramsay in Studio B are smaller and may be a good fit for first timers.




Private class with Instructor of choice. Rates vary and are dependant on group size. Grip socks are required for all participants to wear during class; bring your own, rent a pair in-studio for $1.00 or purchase a pair from our boutique.