Lindsay Butchko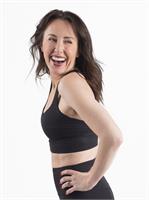 Q: WHAT MADE YOU FALL IN LOVE WITH BARRE?
A: The movement, the music, the results and the amazing women behind it!
Q: WHAT'S ONE THING YOU WISH YOU COULD TELL YOUR YOUNGER SELF?
A: It will always work out. If you work hard and do the right thing, it will work out. <3
Q: WHAT'S YOUR WHY?
A: Connection. Passion for living my best life!
"But did you die?"
Lindsay Butchko instructs the following:
You asked and we answered. Introducing our newest schedule addition: BBS Bangin' Backside! Come to this class for a higher, tighter, rounder butt. We'll run you through the BBS format you know and love with an extra emphasis on sculpting your seat, toning your hamstrings, and strengthening your back. All levels welcome.




The original, like a classic tote that complements every look, this one hour workout will tone and challenge all levels of fitness. This is a class you can't go wrong with. The BBF tones and blasts common problem areas through a series of strategic exercises that focus on strength and flexibility while incorporating the ballet barre. The routine keeps fitness fresh with innovative moves complementary to all levels of fitness. > Classes in studio b are smaller and may be a good fit for first timers.