Lindsay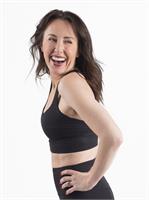 Why do you love Barre? It reminds me of my past being at the barre in dance class. Now I love it because it has transformed my body in a way that I didn't know was possible. My legs, arms and body are lean!
What is your guilty pleasure? Reality Television.
Who inspires you to be the best version of yourself? My best friend; she is always beside me to encourage, motivate and celebrate!
What is your favourite quote? "Anything worth having is worth working for."
Lindsay instructs the following:
How do we get strong, toned, sculpted arms? Come to a Long. Strong. Arms. class. We'll get those triceps trembling & biceps burning. This class follows Barre Body Fit sequence with an extra focus on toning your arms. The perfect way to prepare for a sleeveless cocktail dress or holiday getaway bikini!




This 75 minute class gives you a little extra of all your favourite things. Come for the barre body fit sequence you know and love, with extra time to spend on glutes, core, and stretch.




The original, like a classic tote that complements every look, this one hour workout will tone and challenge all levels of fitness. This is a class you can't go wrong with. The BBF tones and blasts common problem areas through a series of strategic exercises that focus on strength and flexibility while incorporating the ballet barre. The routine keeps fitness fresh with innovative moves complementary to all levels of fitness.

Classes at Ramsay in Studio B are smaller and may be a good fit for first timers.