Tara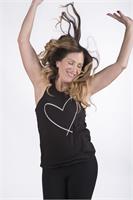 Why do you love Barre? It's that sweet barre burn that made me fall in love; I admit, it is a love/hate relationship! It is so intense but the benefits I have seen in my muscles and the improvement in my strength and endurance makes those 'teeny-tiny-little pulses' worth every second.
What is your guilty pleasure? Red wine and chocolate are my biggest weaknesses…and peanut butter.
What is a secret talent of yours? Singing maybe? But it's not a secret; I sing all the time! Heck, maybe I sound terrible and nobody tells me? Perhaps I simply enjoy the sound of my own voice but I do honestly love to sing.
Who inspires you to be the best version of yourself? My sisters and my momma; they are my besties and I find them hugely inspirational.
Tara instructs the following:
The original, like a classic tote that complements every look, this one hour workout will tone and challenge all levels of fitness. This is a class you can't go wrong with. The BBF tones and blasts common problem areas through a series of strategic exercises that focus on strength and flexibility while incorporating the ballet barre. The routine keeps fitness fresh with innovative moves complementary to all levels of fitness. > Classes in studio b are smaller and may be a good fit for first timers.




Barre Body Studio is hosting a FREE weekly outdoor Barre Body Fit class at the East Village Experience Centre (west of the Simmons Building). Class is held every Thursday from 12pm-1pm starting May 11th. It is free to attend, but space is limited - no online sign up is available. Spots are given on a first come basis. Bring a mat, a water, and arrive early to save your spot!




This class is designed to target all areas of the body with an emphasis on the core. Barre paired with an intense core segment and plenty of stretching, what could be better. Be prepared to strengthen, sweat, and stretch.




Mommy & Me summer classes are back and welcoming drop-in's at both Ramsay and Bow Trail locations.

Classes are offered 1x per week at each studio:

Tuesday's starting June 13th @ Ramsay 10:45am - 11:35am

Wednesday's starting June 14th @ Bow Trail 1:15pm - 2:05pm

Sign up using your Tribe Memberships OR purchase a 5 or 10 class card. Space is limited so sign up online in advance to secure your spot.
Our 1-month Intro is not accepted for this program.

Mommy & Me is a post-natal barre class designed to give new moms a dynamic barre workout with their babies safely nestled into their own carriers.

Babies must be under 7 months old and not crawling. For everyone's safety, your baby must be in a wrap/body carrier while you are enjoying the class, or on the mat for the floor series. Carriers are not provided.




Pressed for time? Aren't we all? Join us for a 50-minute variation of Barre Body Fit for Barre Body Fitters on the go! This class is sure to leave you feeling refreshed and ready to take on the rest of your day.