Marlo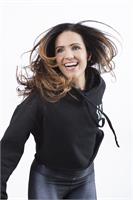 What is your favourite Barre Body Move? I love them all and am constantly dreaming up new ways to keep my classes challenging with different variations on old classics that we use in classes. I love thigh and seat work at the barre. Booty.
What is your guilty pleasure? Pizza and wine.
What do you want to be when you grow up? I worked for the Government of Alberta for 10 years before opening Barre Body Studio. The last position that I held was as an Assistant Chief Probation Officer. During those years I grew up fast. I left the GOA to follow my dreams. It is never too late to change your destiny.
Who inspires you to be the best version of yourself? My kids. They are constantly asking questions, learning, and looking for guidance. Staying active helps me to be the best version of myself.
Marlo instructs the following:
Pressed for time? Aren't we all? Join us for a 50-minute variation of Barre Body Fit for Barre Body Fitters on the go! This class is sure to leave you feeling refreshed and ready to take on the rest of your day.




The original, like a classic tote that complements every look, this one hour workout will tone and challenge all levels of fitness. This is a class you can't go wrong with. The BBF tones and blasts common problem areas through a series of strategic exercises that focus on strength and flexibility while incorporating the ballet barre. The routine keeps fitness fresh with innovative moves complementary to all levels of fitness. > Classes in studio b are smaller and may be a good fit for first timers.




Tuck for Turkey is back and starting on November 27!

The Challenge is to take 15 classes in 21 days. Complete the Challenge and be entered into the draw to win one of many sweet prizes. It's that simple! For all the deets, check out our blog

HERE!

Please register at the studio you frequent most often as that is where your name will be on the challenge board. But don't worry! Classes will count no matter which Calgary studio you take class at. Doubles are allowed but please only sign-up for your first class, second class is drop-in only.

Good luck!




Private class with Instructor of choice. Rates vary and are dependant on group size. Grip socks are required for all participants to wear during class; bring your own, rent a pair in-studio for $1.00 or purchase a pair from our boutique.