Marlo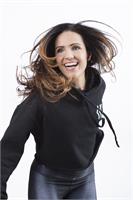 What is your favourite Barre Body Move? I love them all and am constantly dreaming up new ways to keep my classes challenging with different variations on old classics that we use in classes. I love thigh and seat work at the barre. Booty.
What is your guilty pleasure? Pizza and wine.
What do you want to be when you grow up? I worked for the Government of Alberta for 10 years before opening Barre Body Studio. The last position that I held was as an Assistant Chief Probation Officer. During those years I grew up fast. I left the GOA to follow my dreams. It is never too late to change your destiny.
Who inspires you to be the best version of yourself? My kids. They are constantly asking questions, learning, and looking for guidance. Staying active helps me to be the best version of myself.
Marlo instructs the following:
Pressed for time? Aren't we all? Join us for a 50-minute variation of Barre Body Fit for Barre Body Fitters on the go! This class is sure to leave you feeling refreshed and ready to take on the rest of your day.




You asked and we answered. Introducing our newest schedule addition: BBS Bangin' Backside! Come to this class for a higher, tighter, rounder butt. We'll run you through the BBS format you know and love with an extra emphasis on sculpting your seat, toning your hamstrings, and strengthening your back. All levels welcome.




The original, like a classic tote that complements every look, this one hour workout will tone and challenge all levels of fitness. This is a class you can't go wrong with. The BBF tones and blasts common problem areas through a series of strategic exercises that focus on strength and flexibility while incorporating the ballet barre. The routine keeps fitness fresh with innovative moves complementary to all levels of fitness. > Classes in studio b are smaller and may be a good fit for first timers.